CNC Turning Services in China
High-Quality Precision Turned Parts from a Trusted China Manufacturer
Though synonymous with CNC machining, CNC turning is way faster and more affordable than the CNC milling process. If you need complex designs with rapid manufacturing of prototypes or end parts, go for CNC turning.
EcoReprap is a leading CNC turning service provider and offers turning services for different materials. Whether you want a round or a cylindrical part or want to get done drilling, boring, threading, or knurling, we have it all. Besides CNC turning, EcoReprap provides all types of CNC machining services.
Computer numerical control (CNC) turning is a particular form of CNC machining. It is also known as the subtractive manufacturing (SM) technique. 
Turning is grounded on placing a cutting tool against a spinning workpiece being fed along axes. In this manner, tooling removes material from a component achieving an intended design. Turning machines vary from 2 axes plain lathe to 8 axes fully-fledged machining centers. It makes CNC turning a highly versatile process.
CNC turning machines are automated and controlled by an integrated software solution. The program dictates the movements of workpieces along axes according to computer-aided design (CAD) 3D models. Before a process can be implemented, CAD files are processed using G-code. 
A distinct specificity of CNC turning is that the position of cutting tools is fixed, while workpieces are fed to them along axes.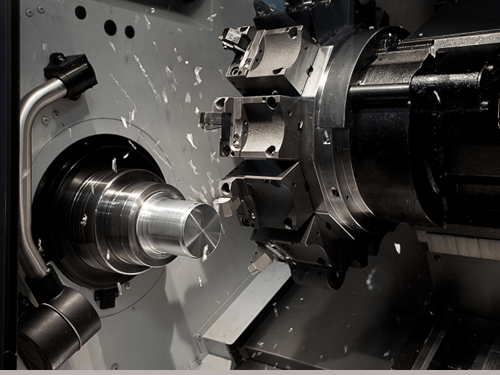 What Are The Advantages of CNC Turning?
CNC turning greatly benefits automated machining overall. Here's the brief list of advantages that this process has over conventional manufacturing techniques:
It supports a vast range of designs regardless of their intricacy.

It ensures an end-to-end process, as CNC turning centers can perform most manufacturing operations themselves. 

It ensures a high accuracy (±0.0002" – ±0.0005") and great consistency between batches. 

It nihilates risks of production defects.

It is equally suitable for small-sized, individual components and heavy-duty operations. 

Turning centers can be modified with automated/robotic pallet changers, reducing the labor effort required. 

CNC turning machines are extremely versatile.

CNC turning centers are basic equipment units of most production lines. 
The CNC turning process comprises multiple operations like grooving, drilling, facing, boring, and others. The range of available techniques is enough to produce nearly any symmetrical component. 
What Kind Of Materials Can Be CNC Turned?
The range of materials that are compatible with CNC turning centers is wide. It includes the following:
Metals

. Aluminum and its alloys, brass, low-carbon steels, titanium, copper and its alloys, zinc, magnesium, nickel, and nearly any others.

Plastics.

ABS, Nylon, PTFE (Teflon), POM (Acetal/Delrin), Polycarbonate, PEEK, HDPE, and nearly any others.
Woods/Plainwoods.

Cedar, oak, maple, cherry, ash, and nearly any others.
Machinable Wax and Foams.

Polyvinyl-chloride, cross-linked polyethylene, EVA.
Composites.

Polymer matrix, carbon matrix, ceramic matrix, and metal matrix ones. 
As a rule of thumb, soft, fibrous materials cannot be machined with turning. It is also correct for ones that have low melting points or low tensile strengths. It is explained with a high probability of their deforming or cracking.
It shall be noted that each material type requires careful selection of a cutting tool and process settings. Otherwise – the material will not be machined as expected.
Why do You Choose Our CNC Milling Service
Imported CNC machining centers(Brother, Fanuc and others) and cutting tools ensure repeatable precision for your parts.
Using software for maximum efficiency and machine compatibility, including

Solidworks, MasterCAM, AutoCAD.
ISO 9001:2015 and

 14001:2015 certified Environmental Management System.
3- Axis, 4-Axis, 5-Axis CNC Milling
Request a Quote for Turning Parts
Do you need a quote for your high-precision part? Contact us now by phone, email, or through our contact form.