Anodize vs. Alodine: What's the Difference?
If you want to never confuse anodizing and alodining? Yes, a better understanding of two widespread procedures used to prevent the corrosion of metals is beneficial overall.
Regardless if you are a well-seasoned expert in fabrication and machining of metal parts or a complete newbie, you should know such finishing processes better.
Read below the distinct explanations of anodizing and alodining. We also detailed the differences between these finishing techniques for your convenience.
Such a finishing process is basically the formation of a corrosion-resistant coating on a metal. It is grounded on principles of electrochemistry.
A workpiece is immersed in an acidic electrolyte solution, to which external electrical force is applied. Running through the electrolytic liquid and stressing a metal, electrical current triggers a reaction. In this process, metal serves as an anode. In their turn, oxygen ions, released from the acid bath due to electrical current, transfer on the substrate and integrate into it. 
As a result, the metal surface is transformed into an oxide layer. The coating obtained has enhanced corrosion resistance and durability properties. 
Anodized aluminum components' origin is from the defense, aerospace, and automotive industries. Currently, this material is prevalent for the manufacture of medical and pharmaceutical tools and equipment units, such as sterilizers.
Pros and Cons of Anodizing
Anodizing has certain benefits that make it a frequent option for finishing.
The coating obtained is sustainable, wear and corrosion-resistant, and can be cleaned easily.
The coating is defect-prone.
The coating is ultraviolet-stable and will not peel or flake, as it is basically an inherent surface layer.
This finishing can serve as a base for other manufacturing procedures.
As with any manufacturing/finishing process, anodizing is known for several situational disadvantages.
Among metal materias, only aluminum and magnesium can be anodized successfully.
The color of the coating obtained may vary from batch to batch of components produced, depending on the quality of the material.
Consistency of coating may also vary from batch to batch.
For small size parts, the cost of anodizing is low.
It is a comparatively complex method, requiring skilled labor.
Well, actually, "Alodine" is the brand name. The process of alodining is more commonly known as "chem film" or chromate conversion coating. As well as anodizing, chem film passivated and protects metal from corrosion.
The process is grounded on coating a metal with a chemical called Alodine. Basically, the material is immersed in a tank with the specified solution at room temperature. There is no need to apply electrical force. Alodine creates a protective layer that lasts for years independently.
Chem film can be applied to a material by a number of methods. As such, dipping, brushing, spraying, and others can be used. The choice depends on the convenience of one or another method of the chromate conversion coating. 
The scope of applications of alodining includes aluminum hardware, automobile wheels, aircraft hulls, torsion struts, flight control systems, and others.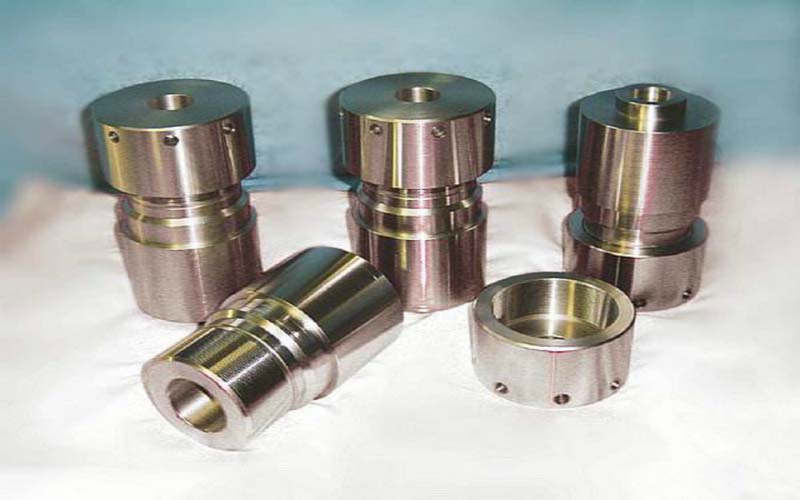 Pros and Cons of Alodining
Here is the comprehensive list of advantages of alodining.
It can be applied to various materials, including steel, titanium, aluminum (most commonly), zinc, copper, and others.
The process is simple and can be done by unskilled employees.
Alodining enhances a material not only with corrosion resistance but also with extra electrical conductivity.
Alodining is a comparatively affordable finishing technique.
May color metal in nice-looking gold.
It does not change a workpiece's dimensions and does not reduce holes' sizes.
It does not require conducting post-application procedures such as cleanup.
Unfortunately, even chromate conversion coating has a few disadvantages.
Such coating is not sustainable to micro-defects and can be easily removed.
Spent tank contents are not easily disposable, and thus, the process is not environment-friendly.
Contact with Alodine is not safe for labor and may cause lead rashes or itching unless safety measures are taken.
What are the differences between Anodize and Alodine?
Let's review the differences between anodize and Alodine in detail. 
The primary similarity between such finishing processes is that they both enhance a material with great corrosion-resistant properties. There is also a material with which both coatings can work unproblematically. This metal is aluminum.
As a result, in case you need your aluminum machining part to be protected from corrosion, and there are no particular budget constraints or technical requirements, you can just stick to any coating method you like.
On the other hand, there is a long list of differences. They help to define cases in which one method works better than another.
Methods are grounded on principally distinct procedures with different degrees of complexity. It results in the advantage of alodining over anodizing, regarding cost-efficiency.
However, in case the durability of the coating is the principal point, anodizing is much superior to Alodine that fades easily. 
So, if your budget is limited, and you do not expect a component manufactured to last for years, alodining is your choice. In case the situation is directly opposite, you should select anodizing.
In essence, anodizing is a great finishing method for large manufacturers that can train their labor and optimize expenses by handling large-scale orders. But if your company works on small-sized batches of rather cheap components, alodining will offer your great properties at lower production cost.
Keep in mind the points detailed above while choosing a finish suitable to a part. Or a sufficient, to an established manufacturing process, material.
Need Any Services? Contact Us Now!