5 Best CNC Precision Machining Service Factories in 2023
Precise CNC machining is a sort of service that may be priced quite high and be of extreme importance for any customer. That's why you definitely don't want to be mistaken while choosing your trusted precision machining provider. 
There are quite a few aspects to consider before even proceeding with the actual choice. Let's review the comparison criteria and scrutinize five worthy CNC machining service providers on the market.
What to Consider When Comparing Custom CNC Machining Service Providers?
Naturally, you need some points of focus to give them a good thought. These are comparison criteria, and for this topic, the appropriate ones are the following:
It is a complex criterion that impacts mostly the end quality of components and production possibilities available.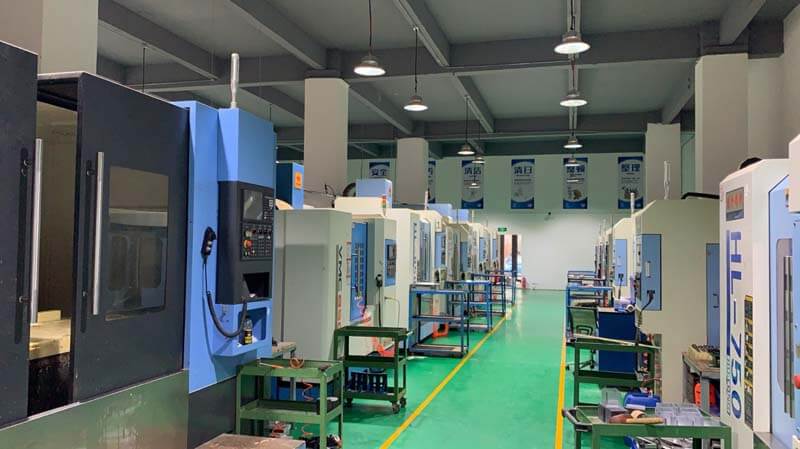 Production capabilities.

It is simply the amount of components a CNC service provider can fabricate at a given time. It's always great to be able to outsource as large batches as needed.
Part size supported.

The concern is both microscopic and large-sized components. If you have any of those to fabricate, you must consider this criterion crucial for choosing a CNC machining service provider. 
Machining tolerance supported. As per manufacturing standards, CNC agencies have several options of machining tolerances available with ± 0.025 being the normal one. A chosen manufacturer must be able to produce the components with the requested degree of machining accuracy.
Turnaround time.

The period from sending the request to having your components supplied may fluctuate heavily. Yet, it should be quite reasonable, especially when it comes to the working hours of CNC units. The latter is the key constituent of the price. 
You are most likely to know the score. CNC machining, like any other service, shows a direct dependency between cost and quality. This post does not stick to how affordable or expensive options of a particular manufacturer are but rather strives to find the optimal price-quality ratio. 
Remember, the cheapest offers are of no good, while the most expensive ones are not worth their salt either. 
What can be added here is that manufacturers may base their pricing on slightly different rules. It means that one provider's rates may be more advantageous for small businesses and individual clients, while others offer good rates to enterprise-level clientele only.
Again, this is a complex criterion that has a lot to do with the overall level of service.
The convenience of communication

with the support team alone is the first thing to notice. Probably it's not worth expecting nearly-instant answers anyway, but making you hang on for days must spark a thought.
The follow-up

must be superior. Even if you are notified about the progress with your order, a simple message is already enough for you to not be concerned about the project. You also should be given room for asking customer support any questions you wish regarding components produced. 
Order tracking

is also an essential aspect impacting end satisfaction of CNC services heavily. Transportation options must be available. And customer support must be able to consult you regarding the location of your components produced during their working hours. 
Design options

. Really no manufacturer can allow themselves to rely on customers' blueprints, CAD models, and especially CAM files. Naturally, a CNC service provider must have some design options available just in case.
The Pros and Cons of CNC Machining Service Factory
The idea is that even fairly trusted manufacturers, like the ones on the list, have their specificities to consider. Let's try to apply the detailed criteria and see which of the five CNC machining service providers should be your choice.
This company started as a network of 3D printing services a long time ago. Now it is more of a platform uniting providers of CNC machining services. The vendor has a vast range of capabilities to offer in terms of precise CNC machining, from prototyping to large-scale production.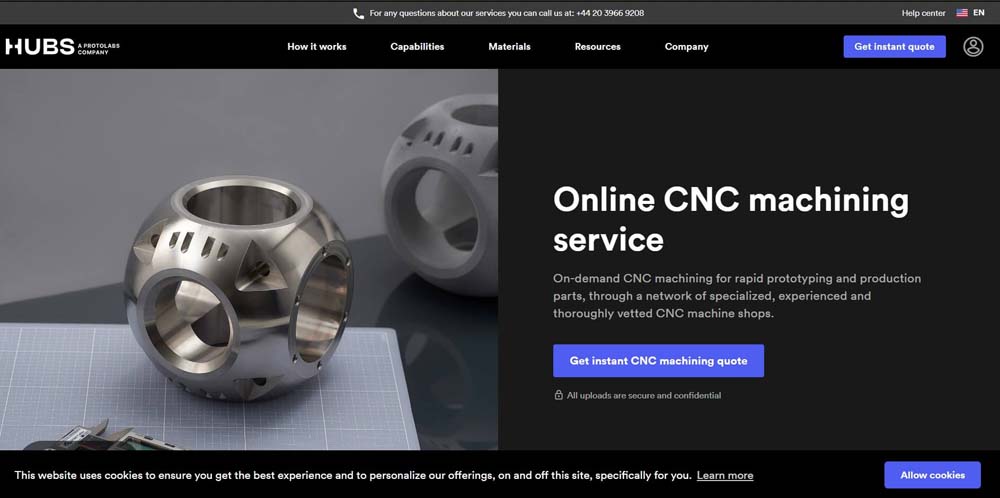 The company works with CNC mill and turning centers. The fabrication that involves EDM machines and grinders is also told to be available as per request. 
Tolerances, supported sizes, and other technicalities may fluctuate in the broad range as, once again, the platform has a network of shops, each with its specificities. The claimed lead time is five business days or more, depending on the order. Hubs support most metals and plastics as raw materials for production.
The con of the Hub's approach is that the decentralized platform does not quite take control over all of its CNC machine shops. So, although the combined capabilities may seem nearly endless, the overall quality of machining depends on the end manufacturer only.
This vendor is much like Hubs, or, to be exact, Hubs is a partner of ProtoLabs. Both CNC machining service providers operate in a similar manner. It means that ProtoLabs is a large platform for CNC shops as well. 
The company started with 3D printing and about 5 years ago acquired capabilities to offer rapid prototyping and CNC fabrication services. ProtoLabs offers a "digital manufacturing" experience. Which are basically the same services sold in an eCommerce manner.
The vendor offers extensive capabilities in terms of manufacturing techniques and CNC machines. The supported raw materials are plastic, metal, and elastomers. On-demand finishing options are available. 
In terms of precision machining, there are some design considerations to pay attention to. Like, the maximum block weight is about 34 kg. Maximum dimensions of workpieces are also specified, but it is completely normal. Some reasonable limitations ought to be, aren't they? The tightest tolerance offered is +/-0.002 in.
For some reason, the lead time here is 10+ business days, which may be a bit too lengthy. ProtoLabs shares the disadvantages with Hubs. Large batches will likely be outsourced to several machine shops which would have an instant and negative impact on consistency.
EcoReprap is a manufacturer that has been around since 2012 and has gained quite a reputation. The vendor offers both subtractive and additive manufacturing options, prototyping services, extensive production capabilities, and more.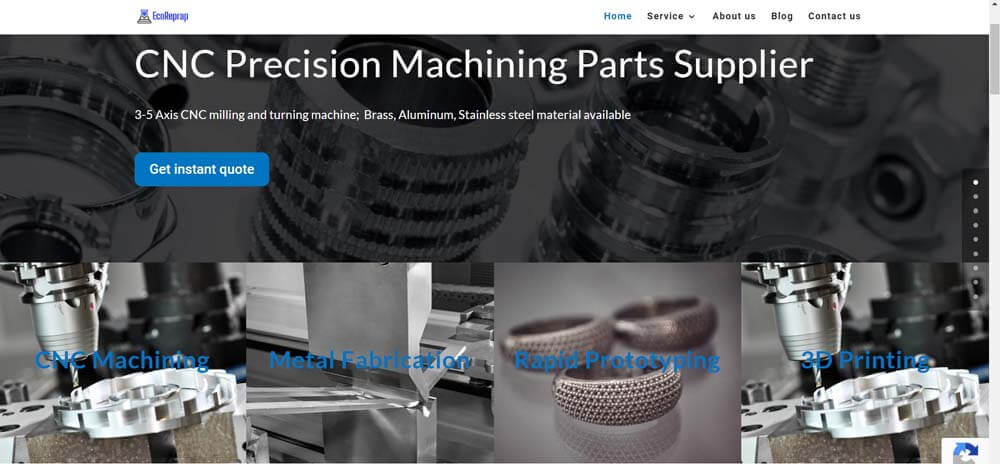 The three pillars of EcoReprap are engineering support, pricing and turnaround time, and Quality Assurance (QA). Let's pay some attention to all of them. 
The good thing is that the company's engineers carefully examine each drawing sent and offer design advice, if necessary. This feature is complemented by superior QA practices in place there. It ensures that the rejection rates are low and the manufacturing quality is at its best.
The customer reviews can easily be found on the web, serving the proof of EcoReprap reliability. It appears that some of the world-famous suppliers of electronics are fine partnering with this vendor.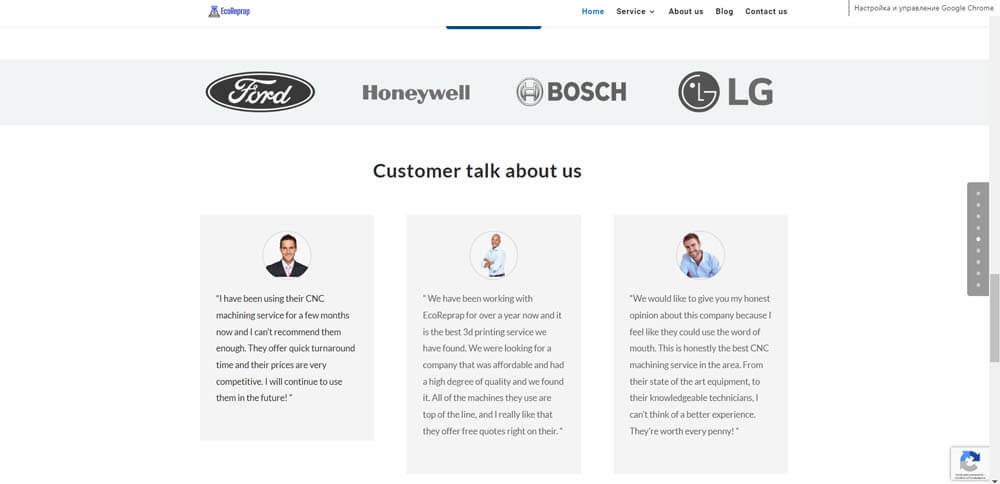 EcoReprap pricing policy also should be mentioned. The company owns entire manufacturing plants that can keep up with a high load resulting in a notable price reduction compared to alternative providers. Small batches are also offered to produce at a reasonable cost.
Clients observe and report the short lead time the EcoReprap offers. The vendor has the workflow well-regulated, so batches of products are delivered in a timely manner as a rule. The range of available materials and supported manufacturing techniques EcoReprap offers is vast.
Machining tolerances here are as per the ISO standard and can be adjusted to suit particular specifications. The tightest tolerance offered is +/-0.002 in. (literally the highest possible accuracy). EcoReprap performs rapid prototyping as per request. Free quotes are naturally available. 
In essence, it appears that there are all good reasons to opt for this vendor's services.
This platform is basically the net of Europe-based manufacturers. The main emphasis of the service provider is a scope of manufacturing lines that is as extensive as possible. An instant quoting engine is available via the site. From the CNC machining standpoint, turning, milling, and drilling are available by request.
The strengths of Xometry are high-volume manufacturing and rapid prototyping. The first is explained by the number of manufacturers units in the network. The latter is a conventional service line. It shall also serve as the replacement of the supportive design, as the provider does not promise engineering advice, unlike EcoReprap, for example. 
Custom surface finish options are available, and the pool of material is conventional: metals, polymers, and plastics. Solid quality assurance is in place, as it should be. The promised turnaround time is 10 days or longer, depending on the project. The tightest tolerance offered is +/-0.002 in.
The quality of serial machining offered by Xometry is not questioned. Yet, the provider leaves room for outsourcing your project to multiple manufacturers without you even knowing about it. As a result, it may be somewhat complicated to fabricate some designs. To be exact, the designs that have not been well-tested yet.
Fictiv is a platform uniting US-based manufacturers. It has an instant quoting functionality on the site, as well as its competitors. Rapid prototyping is available by request, with no clearly stated design support offered.
The interesting thing about this platform is the system of flexible pricing. It's hard to state, but potentially other vendors may have something similar in place. Anyway, Fictiv offers three turnaround time modes for your choosing. 
Technically, it's more of a marketing trick, and other CNC machining service providers shall have more affordable pricing with a shorter turnaround time, but you'll know about it only after the quoting.
Offered CNC lines are milling, turning, electrical discharge machining, and gear hobbing. The tightest tolerance offered is +/-0.002 in. The pool of material is no different from the standard one and includes plastics, composites, and metals.
There is no perfect service provider, no matter whether it is a platform combining thousands of manufacturers or a stand-alone CNC shop. You should request quotes from plausible options. The end result and final pricing fully depend on your location, order size, design, etc. 
Here are some recommendations for your kind consideration deriving from the type of client you are.
For machining enthusiasts.
Such customers usually like ordering small, even minor batches of products. Possibly even requesting a couple of details only. 
These clients may have recommended Hubs and EcoReprap in the first place. The latter has advanced design support most machining enthusiasts will find useful. 
For small to medium-sized businesses.
Normally, these companies outsource their needs for CNC machined components. They may require designing services and small to large batches of parts produced. 
These businesses can be recommended to choose a vendor depending on their location. Still, such customers may also benefit from design support by EcoReprap. Just in case. 
For enterprise businesses.
Large-scale corporations outsource some components for their central manufacturing. Alternatively, they request the same machining services from several service providers. 
These clients may be advised to partner with Xometry, ProtoLabs, and EcoReprap because these companies/platforms specifically have large machining capabilities available.  
Need Any Services? Contact Us Now!
Subscribe To Our Newsletter
The lastest metal machining and 3d printing post delivered to your inbox.