Mill vs Lathe Machine: What's the Difference?
There is some confusion concerning the differences between a mill and a lathe machine. Both machines are used in CNC machining, Computer Numerical Control, and in a number of industries. However, the differences between them are significant.
Because of these differences, many company owners and factory managers may want to use both a mill and a lathe machine for different purposes.
In this article, we're going to explain the fundamental difference between both machines and why it's important to differentiate between two technologies.
The goal of Milling machine is to remove the excess materials from a product or part. To do this, rotary cutters are used to trim the piece. Mills can be customized to work in multiple directions, pressures, and speeds.
Lathe machine's objective is to rotate a work tool, so that more customization can be done, namely cutting, sanding, drolling, turning and other variations. Lathes can also use a variety of other tools that can help precisely shape a new object.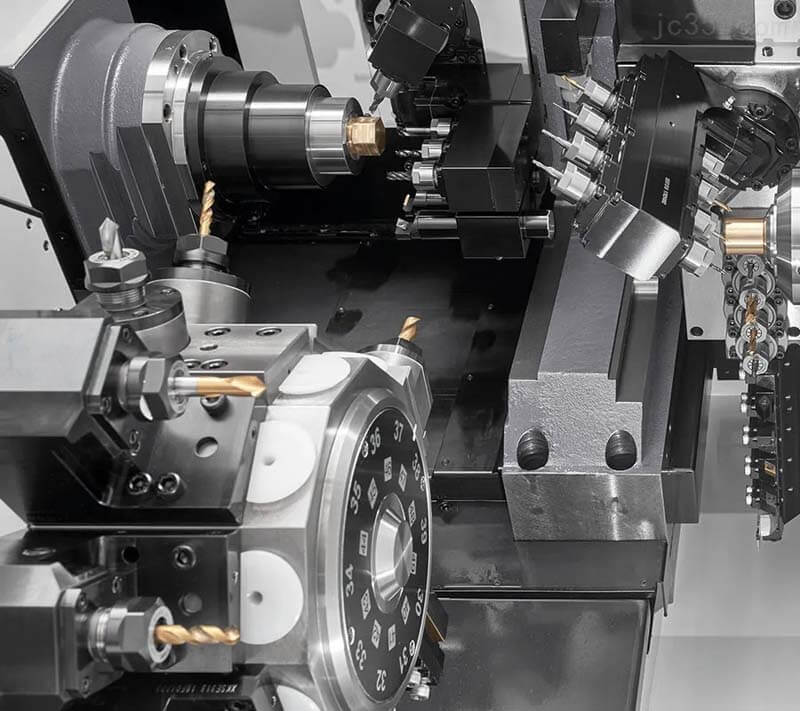 Working Methods of Both CNC Machines
Mills get rid of excess material by feeding the work tool into a cutting tool. The tools can have many blades or just one sharp end. Mills are also taller than lathes, but short enough to fit in a small space.
Lathes are not as tall but larger overall, and look more like a full work bench. There are multiple parts of a lathe besides blades, such as a bed, carriage, faceplace, headstock, and tailstock. These parts help to rotate the product, as it turns against a blade.
Variations of the Machines
Lathes usually involve one large blade and not several. The lathe doesn't move but the product rotates, as the material is cut off. Because mills have multiple blades they can grind away material using various work tools.
It's the basic difference between cutting material against a stationary machine (lathe) or a stationary tool that cuts products by sharp rotating blades.
There are face mills and peripheral mills. Face mills can be customized to cut around the exterior of the blade, but peripheral mills cut across the whole circle of the tool. 
Mills can also be aligned vertically or horizontally, (with the tool inside the mill), CNC operated, or special designs like turret, gang, or bed mills, which alter the movement of the rotating pieces. 
Lathes can also be engine-operated, CNC, precision grinder, vertically aligned, tabletop designed, and made for screw cutting.
Lathes are ideal for woodworking and metalworking. The power of the mounted workpiece and single blade cutter can remove almost any material. However, lathes can also work with pottery, glass, plastics, and other less industrial materials. 
Mills can process tougher material over all, including most metals, as well as hard plastics, fiberglass, acetal, nylon, PVC, and so on.
While both types of machines do similar tasks, there are still variations in the method of cutting. 
Mills don't have a rotating workpiece, but a rotating axis. This means the tool can approach the product in a variety of ways, and actually shape more complex designs. Mills are ideal for projects requiring a versatile approach. The harder the shape, the more styles required, the better choice is a mill.
But to say that lathes are for "simple tasks only" would not be entirely true. Lathes are actually better for making certain shapes, like circular shapes, because of high performance. Mills trying to cut cylinder-shaped prisms may be too needlessly complicated.
Lathes are excellent for manufacturing:
Bats
Bowls
Sticks
Barrells
Pottery
Glass
Patterned Metal
Bold Threads
And other simple shapes
In contrast, mills are better equipped to handle:
Car parts
Building materials
Sculptures
Engravings
Trophy pieces
And other complex designs
Milling machines are often used to make gears, or other parts with slots and grooves, and 3-D shapes with difficult edges. Lathes are usually preferred for making more cones and cylinder shapes. But they also handle sanding, drilling, and widening materials.
Tips for First-Time Users
The decision on whether to buy a lathe or mill for your first-time purchase really depends on what kinds of materials and shapes you need. Lathes cut precisely but mills handle multiple holes and straight cuts. 
In a perfect scenario, you have both for different purposes and use both methods for maximum efficiency. 
But if you ask inventors, businesspersons, and factory workers, they might give you basic tips like:
Don't bother getting a milling machine without CNC
Lathes are better for small businesses 
But in industrial manufacturing you usually use the mill more often
But lathes are good for beginners new to cutting and shaping
It's easier to "mill" on a lathe, but harder to turn on a mill
Lathes don't need CNC
But CNC lathes are pretty expensive, more than CNC mills
Of course, many working professionals have differing opinions on a mill vs lathe debate. But it depends on your inventory, your projects, and your manufacturing goals.
In summary, remember with the lathe, cutting tools stay still and the object rotates against one primary blade. With mills, the cutter is placed on a moving object like a spindle or arbor and it rotates at very high speeds – with multiple blades. 
What might help you in making your first purchase, is to watch videos on how lathes and mills operate. Then, consider visiting a Lowes or Home Depot store to see how different both machines appear in form. 
Finally, determine your budget and decide just how complex your business projects are at the moment. Remember, you can always start with a lathe purchase (since it's for simple tasks and yet versatile) and then upgrade to mills, and CNC later on, as your business grows.
Need Any Services? Contact Us Now!