CNC Machine Operator: Completer Guide in 2023
If you are wondering how to enter into manufacturing industry – CNC Machine operators may be your ticket in. Such enter level empolyment is not that demanding to your expertise, and nearly every great expert went through this stage.
Let's review what this position actually is, the way to be hired as a CNC operator, your duties and pay rates, and the difference between operators, programmers, and CNC machinists.
What is a CNC Machine Operator?
CNC operator is a beginner position in the machining industry. They assist their colleagues – set-up operators/machinists and CNC programmers. They perform basic duties and ones that do not require high expertise. Technically, CNC operators can perform nearly any other function but strictly under supervision. This way, they can acquire specialized skills faster.
A CNC machine operator is expected to have a set of specific abilities that would help them fulfill their everyday duties:
Strong attentiveness to details.
Ability to perform mathematical calculations and engineering estimates.
Basic knowledge of CAD/CAM software.
Basic knowledge of CNC computer programming principles.
Ability to carefully follow safety guidelines.
Responsibility and reliability.
Problem-solving and multi-tasking skills.
Capability to lift heavy objects.
These will help a newcomer to fulfill an employer's expectations and become a worthy CNC operator.
What Does a CNC Operator Do?
Such employees are considered assistants to their more proficient colleagues. Technically, they can participate in nearly any machining activity but not independently. A typical set of duties for CNC Operators to fulfill looks like this:
Receive raw materials and fill out corresponding documentation.

Load raw materials and unload finished components.

Perform cleaning and other maintenance procedures.

Supervise machines as they operate, make minor adjustments if needed, or notify CNC machinists. 

Take part in quality assurance by inspecting finished products, testing them, and ensuring that they meet required specifications.

Follow safety guidelines and notify of any hazardous situations raised. 

Keep detailed records for manufacturing operations performed, equipment used, procedures conducted, materials received, and components issued.
How to Become a CNC Operator?
Back in 2018, the size of the US CNC Market was estimated to be slightly lower than $15 billion. But as of 2022, it is already above $18 billion. Statistics show slow but steady growth in this sector. What does this exactly mean? That more and more factories technologically advance their production lines by getting rid of conventional, obsolete manual machines and purchasing CNC centers. 
CNC operators, machinists, and programmers will likely be in demand. Which, naturally, increases the pay rate of such specialists. So, such specialists do have a future, and this career path can be advised to be chosen.
In fact, such a career path as a CNC operator may be quite appealing for many willing to make a living in a rather unspecialized but still well-paid position.
What Education is Required to Be a CNC Operator?
Needless to say that some employees prefer to get an associate degree prior to starting work as CNC operators. In this case, they have enough knowledge to become machinists or programmers in as little as one year or so. They are also more likely to be promoted or have a pay raise, which is fair. But specialists with a degree are rather an exception. 
To become a CNC operator, you must possess a high school diploma or, as an alternative, General Educational Development (GED) certificate proving that you have got basic knowledge in major subjects. So, it is widely considered appropriate if you complete a standard education program covering math, engineering, computer, technology, etc. Some colleges' programs may even have classes on CAD/CAM operation or design technology included, which is a benefit.
Having one of the mentioned, you can just go to a CNC machine shop and ask whether they have an open CNC operator position. If you are lucky, you will be told more about this job and offered to pass an interview. In case of success, you will be trained by the CNC shop's CNC machinists themselves as per the regular procedure.
So, becoming a CNC operator is a no-brainer. You just need basic education or an equivalency certificate to be contracted. 
What About Certification?
Well, you may get a certification prior to starting work as a CNC operator. But most likely, you will be offered to do so by your employer. They typically pay for certification of their newcomers so their operators can become proficient machinists as soon as possible. 
As for certification possibilities, the National Institute for Metalworking Skills (NIMS), for example, offers one to three levels of machining certification. NIMS credentialing program assesses the skills of an operator or an uncertificated machinist against national standards. As a result, an applicant can receive from entry-level to master certificate in both programming and machining. 
Technically, this procedure is not obligatory. But as a matter of fact, most employers ask their workers to receive certification before they get promoted. So, if you decide to become a CNC operator, it is likely that you will have to pass certification. And, probably, several  times. 
How Much Does a CNC Operator Make
So, here is the essential part that defined the attractiveness of this job position to many. The recommended wage, i.e., the benchmark for most employers, is about $20/per hour. This entry-level position is basically paid as any other similar position, which is about $40,000 of annual net worth.
What about potential perspectives? Well, it is likely that you will become a machinist or a programmer only in 2-3 years or so. But even as a CNC programmer, you still can pretend to receive a pay raise in accordance with your level of experience gained. 
Actually, the estimated average pay of CNC operators in the US is about $65,000. So even before you are a certified programmer or a machinist, you still can earn decent pay. Do not forget that you are not obligated to have a degree to start working as an operator. So, you will not be subject to student debts payments. CNC operator is a relatively simple way to start earning fast overall. 
How to Become a CNC Programmer From a CNC Operator?
It is typical when CNC programmers and machinists are confused with CNC operators. Probably, the main reason is that their duties are not that strictly separated, and some employees may perform most of the work as both machinists and programmers. 
Still, programmers may not be an obligatory part of the workforce. The basic part of their duties still perform machinists, while building programs from scratch is rather done by outsourcing CNC shops during the rapid prototyping stage.
The duties that an in-house CNC programmer may perform are: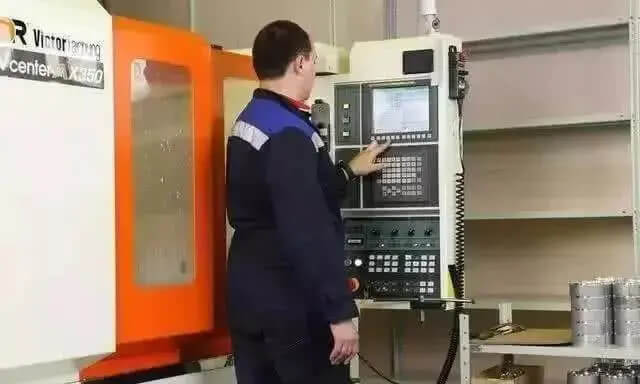 Reading technical drawings for a better understanding of equipment units to build programs for.

Use CAD/CAM computer software to model the innovative components.

Creating CNC programs from scratch or adjusting already existing ones so they suit the changed purposes.

Perform adjustments to CNC machining units so they can follow a programmed sequence of actions precisely.

Select and set up appropriate cutting tolling compatible with the chosen materials and the selected CNC program. 

Perform quality assurance tests to ensure that produced parts are of appropriate quality.

Create quality assurance tests in accordance with the existing policies, standards, material chosen, and design intended. 

Troubleshoot problems that arise with machines while testing a new program. 

Instruct and supervise CNC operators so they can learn basic programming themselves.
The mentioned are mostly all the functions that a regular programmer performs. Still, as most of them are either former CNC operators or even CNC machinists, they can participate in manufacturing operations as well. 
Way from a CNC Operator to a Programmer
Once you are an entry-level CNC operator, you have two options – to become some sort of a technician or a machinist. Or to learn more about CAD/CAM software and advance yourself as a programmer. It is not obligatory that you have to undergo a machinist position before becoming a programmer. But most employees typically do so.
So, if you are already a CNC operator, the first thing you should do is to consult your supervisors. They should be aware of your intentions so they can ask ones which have basic programming knowledge or in-house programmers to become your instructors. They will explain fundamentals to you and give advice on how to master your skills further.
Potentially you will be offered to pass courses. In the best-case scenario, they will be held during working hours and will be fully paid off by your employee. This way, you will typically be obligated not to quit your job for a certain time, so these expenses on your education can bring some value to the company. 
Once you have enough knowledge of CAD/CAM software and have some projects completed by yourself, you can attempt to get a respective certification. In case of success, you can be legitimately called a CNC programmer. All that's left is to be offered such a job position in your or another company. 
What is the Difference Between CNC Machinist and CNC Operator?
In fact, CNC machinist and CNC programmer are career advancements – transitions from an operator to a more profound specialist having additional, specialized knowledge. 
A CNC machinist is also called a set-up operator, and this is indeed an accurate description. Such specialists still can perform all the tasks that regular operators do but apparently have a set of additional duties to fulfill, including:
Loading and adjusting a prepared program for CNC machining so it is compatible with a particular material and a CNC unit.

Selecting and setting up cutting tools prior to running a production line or in-between batches of products.

Testing a CNC program on a prepared workpiece to ensure that no deviations occur.

Perform basic troubleshooting that does not require inviting a specialist from a CNC machine's supplier.

Perform fine-tuning/finalizing of the prepared program for CNC machining in case it is malfunctioning slightly. 

Perform programming from scratch under a CNC programmer's supervision.

Supervise, instruct, and manage CNC operators. 

Take part in performing quality control and quality assurance duties like controlling the rejection rate or visual testing of the produced components.

Choosing and loading appropriate cutting tools as per a program set.
Since the way to become a programmer from an operator is already explained, let's indicate factors that distinguish a more qualified expert from their lower-level colleague.
| Factor | CNC Machinist | CNC Operator |
| --- | --- | --- |
| Level of expertise | Sufficient to perform basic programming/program adjustment, set up cutting tools and troubleshoot issues. | Sufficient to run programs, load/unload raw materials and components, perform other basic functions, and some advanced ones under a CNC machinist's supervision. |
| Access to CNC software and programming software | Full access to CNC software and partially limited access to programming software. | Limited to running already set programs only. |
| Career progression | Deputy chief/CNC programmer | CNC machinist/CNC programmer |
| Level of knowledge | Extensive knowledge of CNC machining and software, basic programming, and expertise in technical documentation: can read blueprints and part drawings. | Basic knowledge of CNC machining and very limited programming, software, and technical documentation. |
| Level of independence | Can take care of nearly any aspect of CNC machining but still need CNC programs and corresponding technical documentation to be provided. | Can take care of the entire production line on the assumption that only a single batch of components is in the production and the process has been set up already. |
CNC machinist and CNC programmer are the basic skill in CNC machining industrial. They are the evergreen jobs requirement in product development and manumacturing, unlesss the CNC machining area is dead. 
Need Any Services? Contact Us Now!
Subscribe To Our Newsletter
The lastest metal machining and 3d printing post delivered to your inbox.